Générer des rapports détaillés
Limiter les dépenses en licences
Améliorer la productivité
Assurer la conformité des licences
Installation non nécessaire
Installation en 5 minutes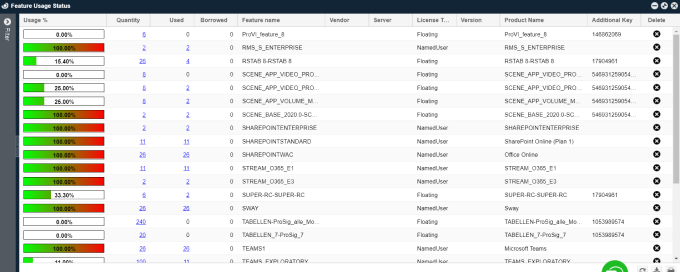 Feature Usage Status
Permet de voir le nombre de licences utilisées et le pourcentage d'utilisation de chacune d'elles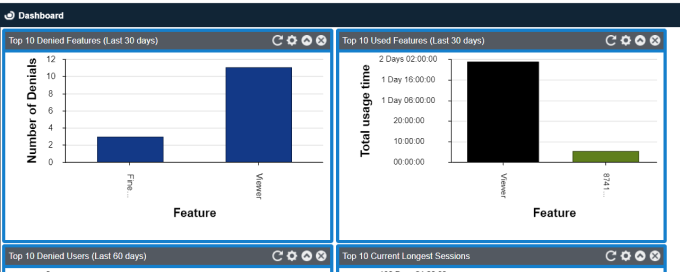 Dashboard
Présente les informations générales sur l'état du système: statut du Licence servers, statistiques concernant les applications surveillées etc.
OPENLM ROI CALCULATOR
OpenLM delivers rapid returns. Use our free ROI calculator to discover yours today.
Request Live Demo
Contact our engineers for a guided demo
OpenLM products cannot be installed on mobile or tablet devices.
Please provide your email address and an account manager will contact you to provide more details.


OpenLM for Windows

OpenLM for Linux

OpenLM for Linux

OpenLM for Linux
Les différents composants

OpenLM Agent indique l'utilisation réelle des licences et le temps d'inactivité. Par ailleurs, OpenLM Agent permet d'identifier les sessions ouvertes inactives et de les récupérer en toute sécurité. Installez OpenLM Agent sur  les Workstations de votre choix. Télécharger la dernière version (v21.10). le programme d'installation pour Windows requiert .NET 4.6.1 ou supérieur

OpenLM Broker fournit des fonctionnalités supplémentaires, telles que la surveillance des refus. Une instance doit être installée sur chaque serveur de gestion de licences que vous possédez. Téléchargez la dernière version (v21.8.26 pour les serveurs de licences basés sur Windows. Requiert le serveur OpenLM v5.6 ou supérieur et Microsoft .NET 4.5 ou supérieur)
Service disponible en ligne transformant les logs files et cryptic license en rapports lisibles

OpenLM for Engineering Licensing – Version gratuite limitée (OpenLM Light) destinée aux petites entreprises ayant des besoins limités en terme de surveillances des licences. Disponible aussi en version complète après inscription. 
OpenLM Webinairs & Workshops
Apprenez à monitorer les logiciels sous licence dans votre entreprise en participant aux webinairs